Course details
【Year End Party / New Year's Party Recommendation No.2】 15 great items (Beijing duck / shark fin / Ise shrimp) 15 items + all you can drink \ 5000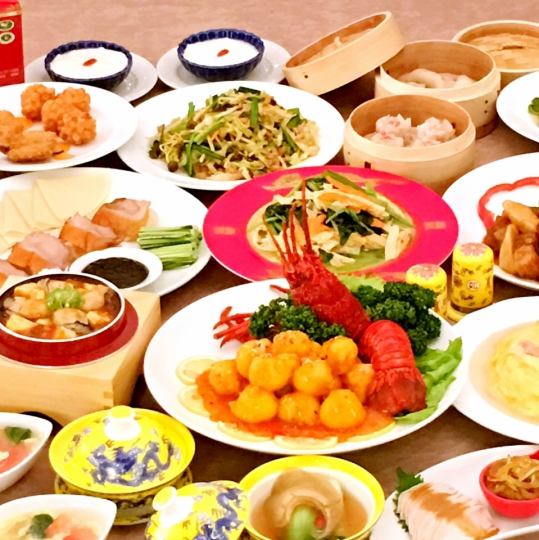 By using a coupon5000 Yen
Only cooking is 3700 yen.
All-you-can-drink available

All you can drink 120 minutes Last order 30 minutes before.I will ask you for a glass change.
Available days for reservation

Monday - Sunday - Public holidays - Holidays
Surprise! You can enjoy authentic Chinese cuisine with 3700 yen dish.Everything is boasted by Chinese nation-class specialists! Full of taste and price! Satisfied! Some contents may be changed without prior notice depending on the season and purchasing situation.
Course menu
·Peking duck
· Shark's fin boiling
· Stir-fried Ise shrimp chili sauce
· Stir-fried cauliflower shrimp sauce
· Yagamu black vinegar and sweet and sour
· Chinja Loose (Braised Beef)
· Shrimp dumplings
·Spring Rolls
· Shark's fin dumplings
· Four cold platter assortments (yam, jellyfish, winter gourd, with seasonal vegetables)
· Sautéed fried rice with crab shark fin
· Annin tofu
All-you-can-drink menu
·beer
· Bottled beer, non alcoholic beer (Kirin Brewery available)
·Fruit wine
· Plum wine, apricot sake, peach wine
·sour
· Lemon sour, blue apple sour, giant peak sour, yuzu sour, grapefruit sour, plum wine sour, anguish sake sour, peach sauce
·Cocktail
· Oolong Hi, Gin Tonic, Screwdriver, Moscommeureur, Cassis Soda, Cassis Oolong, Cassis Orange
Shaoxing wine
· Turtle and Shaoxing wine (rock, straight, hot spring)
· Shochu
· Wheat, potato 【at extra charge】 Umeboshi 108 yen, lemon slice 108 yen, ice sugar 108 yen
·Highball
· High Ball, Dragon High Ball, Ginger High Ball, Black High Ball
·wine
· Red wine, white wine, sparkling wine (white)
·Soft drink
· Ice oolong tea, hot oolong tea, orange juice, coca cola, ginger ale, hot jasmine tea
·Sake
· Shochiku Mei 燗, cold
2018/11/26 update